The Success Story Behind Fidelio's Business Model Transformation
---

"Fifteen years ago, we saw that the web had potential advantages for our customers. To adapt our on-premise ERP solution, we knew there'd be years of R&D. We had to choose between being at the head of the parade or at its tail."
--Alix Muller, President and Founder, Fidelio by Commsoft Technologies
One day, your business will face major disruption.
Your company may be blind-sided by it, as in a car accident, or you may foresee the threat on the horizon, like an iceberg on course for you.
If you can foresee the disruption, the most radical adaptation to the situation is to transform your entire business model.
In other words, you make two dramatic changes to your company: the value proposition you make to your customers, and the operational model that supports your value proposition. Naturally, both major changes have to support each other.
To successfully execute this business model transformation while still satisfying customers and meeting your financial obligations may feel as if you're driving a Formula 1 car at 300 kph and then switching drivers at full speed.
Challenging, yes, but it can be done.
Our team at Commsoft Technologies, the developer of the Fidelio ERP system, did it. So we thought sharing our story would provide support to, and inspire, other SMEs undergoing or considering a transformation of their business model.





The Company
Based in Montreal since 1999, Commsoft Technologies develops and distributes the Enterprise Resource Planning (ERP) software called Fidelio.
Today's Fidelio is a cloud-based ERP that helps growing distributors and manufacturers regroup and update all their information in one system in real time. As a result, companies optimize their business processes, respond more nimbly, and grow efficiently.
But in the original version of Fidelio's software, our platform was an on-premise ERP system that was licensed to customers who installed it on their computers. Often, customers had to buy extra hardware to run the software. In this business model, Fidelio generated revenues through licensing, implementation, training, programming, and upgrade-maintenance fees.
Even if Commsoft's on-premise business was growing, the pace of innovation in web technology was reshaping the ERP landscape in significant ways.

The Challenge
"The web was evolving quickly. It was exciting. We saw how it could help our customers and our company take a giant step forward."

-- Alix Muller, President and Founder, Commsoft Technologies
Around 2006, Alix Muller, the founder of Commsoft Technologies, recognized the growing importance of the web for business. He saw that a web-based ERP system would simplify the lives of customers and give Fidelio a foundation in cutting-edge technology.
In setting out on this transformation of its business model, Commsoft faced several constraints.
Limited development time

The development team's time had to be divided between two mandates: responding to the needs of customers on the first-generation system and working on developing the second-generation, web-based system.
Allocating time to the first-generation system delayed progress on the new system; working on the new system risked slowing response to customer requests on the first-generation system.
Effortless migration

When it came time to migrate customer ERP data to the new cloud-based Fidelio, Commsoft did not want to inconvenience customers in any way. That customer priority became a guiding principle in the development of the second-generation Fidelio.
Tighter customer selection

Alix had to walk a tightrope in the self-financing of the project. On the one hand, he had to keep the needs of his current customers front and center while limiting the development time dedicated to the first-generation system.
On the other hand, Alix had to become more deliberate in choosing the sectors that the company would operate in. Typically, Commsoft would work with customers from a range of industries and customize the ERP system to their needs.
But the accumulation of these customizations rendered the first-generation system less stable. If that system were not stable, the company would not be able to migrate their existing customers to the new system.
As a result, the company had to adapt to this reality to ensure the development of the second-generation Fidelio according to the roadmap. To work with customers who were "off the roadmap" would only delay the launch of the new Fidelio.
So Commsoft turned down opportunities that, in the past, would have been pursued.
Expansion into new markets

To compensate for these lost business opportunities, Commsoft would have to expand its market beyond Quebec. The company chose to focus the new web-based Fidelio on the needs of the manufacturing and distribution SMEs in Ontario, the rest of Canada, and the U.S. That meant developing and adapting marketing strategies and tools for the Canadian and U.S. markets.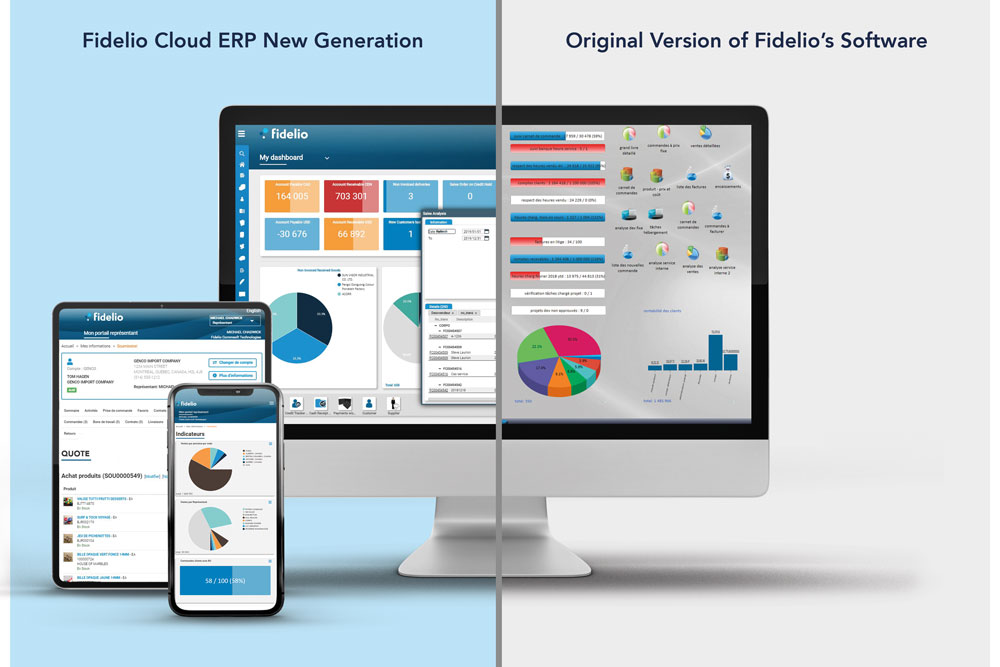 The Solution
"We had to build everything from scratch. We had to create the web appplication we wanted, we had to design and build the supporting web technologies. Progressively, we picked up skills. We then trained our programmers on the technology we had invented."

-- Alix Muller, President and Founder, Commsoft Technologies
The five-year plan

Guiding the development of the new Fidelio was a strategic vision and five-year business plan. From the beginning, Alix had recognized that combining cutting-edge technology with a focus on the specialized business management needs of a market segment would build a strong competitive advantage for the company.
That's because, generally, ERP competitors were strong either in their technology offering or their business management capabilities, but very rarely in both.
Building tools that didn't exist before

On a day-to-day level, the Commsoft development team's goal for the new Fidelio was to maintain the attributes and functionality of the first-generation Fidelio by using modern web technology.
But to build anything, you need the right tools.
From the start, the development team found the existing tools for creating web applications to be inefficient or inflexible. So they scrapped them. Through lots of trial and error, the developers came up with their own tools, which no one else had. Then they trained their new colleagues on how to use them.
As thousands of hours of R&D time were invested, Alix tracked progress and regularly updated the five-year plan. It was nerve-wracking work. Because development time was relatively unpredictable, setting a market-launch date was difficult. Meanwhile, competitors were getting on the SaaS (Software-as-a-Service) bandwagon.

The Results
"Comparing business performance before and after is difficult — it's apples and oranges. There's been a clear increase in profitability, but given our growth goals, we're investing this profit in new tools, new products, and promotion in new markets."

-- Alix Muller, President and Founder, Commsoft Technologies
How customers benefit from the new business model

For SMEs in manufacturing and distribution, Fidelio's new SaaS business model dramatically lowers the cost of entry to all the benefits of an ERP system and digital transformation.
Without this monthly-subscription-per-user model, most SMEs wouldn't be able to afford the large initial investment that an on-premise ERP demands.
This predictable monthly expense enables SMEs to free up capital for investment in other business functions. For example, food and beverage SMEs generally work with smaller margins and need to make major investments in production equipment. The SaaS model is a perfect fit for the ERP needs of such a company.
The SaaS model also makes access to cutting-edge technology simple: you just login on your browser. This simplicity also eliminates the risk and cost of investing in hardware and an IT team. And you don't have to maintain and develop software. What's more, you can rest easy because the world's leading cloud platforms have thousands of experts protecting your ERP data.
The results for Commsoft Technologies

Fidelio's new SaaS business model has led to numerous benefits for the company, such as:
Greater simplicity and speed in serving customers through the cloud, e.g., for service requests, software updates, etc.
A new large market segment of prospects
Decreased fixed costs and higher profitability
More development time for its team to create new products
More funds to support the promotion and growth of the
Future development of Fidelio

For the foreseeable future, the supply of labor will continue to be tight. To help reduce an SME's dependence on labor, Alix sees Fidelio incorporating more process automation, such as the automation of production planning and purchasing.
To streamline customer service, Fidelio will provide digital tools that simplify service requests. To support decision-making, Alix sees artificial intelligence playing a bigger role in Fidelio.
"One thing is sure," Alix said. "Our new business model opens doors to new possibilities, to new ways of doing, to new customers we did not have before."