Is Cloud ERP a Cost or an Investment? Building the Business Case for Investment
---

Your company president sees the cloud ERP implementation you propose as a cost, an expenditure that will reduce the SME's bottom line.
But as the financial leader of the company, you clearly see it as an investment, an outlay of capital and labour whose ROI will significantly increase the productivity and value of the business.
So to move the company forward, you need to build a business case for your boss. The following discussion offers a broad outline of the areas to look at in your business when building your case.
To learn more about the fundamentals of a cloud ERP system, click on, "Cloud ERP: What It Is, How It Works, and Why SMEs Choose It to Elevate Performance"
1. Calculate what inefficiency is costing you.
"Dirty data" and dated data

While every SME without an ERP is inefficient in its own unique way, most growing businesses have common areas of inefficiency.
For example, do you have various team members inputting data, often the same data, more than once, in more than one system? If you do, the information is siloed in software (or even physical documents) that don't talk to each other. Furthermore, due to all the human intervention, that data is probably littered with errors, duplications, and incompletions.
So when you ask colleagues for the reports you need to guide business decisions, you're not getting an up-to-date, "clean" view of what your status is. When you eventually receive your report, you'll be getting "dirty data" from the last data-entry cut-off.
What is it costing you not to have real-time reports instantly at hand when you need to make business decisions?
Ineffective inventory management

Inventory management is challenging, especially in a growing SME. You may have inventory entering and leaving in multiple physical locations, and sales happening in both physical locations and e-commerce. How do you get accurate visibility into it all so you can make sound purchasing and sales decisions?
If, for example, your inventory report overestimates your raw materials on hand, your production may have to slow down or shut down due to component shortages. Your customer orders may ship late or not at all.
If you're part of a supply chain of interdependent businesses contributing to a final product, your inventory shortage impacts all the companies counting on you. You may pay penalties, tarnish your reputation, and lose vital partnerships.
On the other hand, it's expensive to play it safe and carry a surplus of raw materials in your inventory. That excess will tie up working capital, which only a sale can release.
What is ineffective inventory management costing your SME?
Poor production planning

Unless you have coordinated visibility into your inventory and sales, production planning becomes more guesswork than planning.
Let's say you get an order from a grocery chain for 10,000 muffins. Are you confident that your inventory is accurate enough to give an appropriate response for such an order? If so, is your data refined enough to give you a breakdown of the best-before dates of the muffins in inventory?
Furthermore, does your current software have the capacity to forecast how much staff you'll need to produce these muffins? Probably, it doesn't. When your forecasting tools are inadequate, you need to pay for items like rush deliveries of materials, overtime labour, or idling workers. What are these costs to your business?
Lost sales opportunities

Your sales team will find it challenging to sell when they can't be confident that they actually have, or will have, the product to ship. If they can't offer clear answers to customers about quantities and deliveries, your customers' confidence in you as a vendor will diminish.
Time-consuming product recalls

Sometimes, due to some quality issue, you need to pull your product from customer shelves. If you're in the food and beverage industry, for example, such a recall would involve retracing the sources of the food components. Without the proper software, such a recall can be a labor-intensive, paperwork-heavy exercise. What have recalls been costing you?


2. Add up the positive outcomes of an investment in a cloud ERP system.

An Enterprise Resource Planning (ERP) system is software that unites all the data of your business functions — such as accounting, sales, production, e-commerce, and human resources, to name a few — and centralizes and organizes it in real-time.
Since the data entered into the system is rigorously checked, you get total and reliable visibility into your operations in real time. This visibility enables you to make better, faster decisions so you can adapt to a quickly changing environment. Furthermore, the ERP system eliminates or automates many processes, thus saving you time and money
When an ERP is cloud-based, the system can be accessed via an Internet browser for a fixed annual or monthly fee. Working with a cloud ERP you can expect savings such as the following.
More efficient inventory management

Advanced features in your ERP system enable you to automatically determine what the optimal inventory mix should be, and what minimum and maximum quantities to maintain by season.
For example, the analytics supporting this feature allow you to identify the goods that have:
the highest annual consumption value
average consumption value
the lowest consumption value.

With this data in hand, you can make purchasing and production decisions that are more aligned with your past performance. This level of inventory management saves you money and improves your capacity for responding to customer demand.


To learn more about the advantages of ERP inventory management, click on, "5 Ways ERP Inventory Management Levels Up Your SME"
More precise production planning

With full visibility into your inventory, sales, and production, you know in real time what components you have on hand, what your customers have already committed to, and what is in production.
You can plan out with precision what raw materials you need to purchase, which equipment will be in use, and the staff you'll need to carry out the production. This precision enables you to benefit from just-in-time production with optimal use of your team. So you produce more efficiently, more quickly, with just the right amount of staff.
This improvement in production capacity can open up opportunities for increased revenue while maintaining a stable headcount. For example, if you foresee a period of steep production and shipping in Q3, then you can proactively plan for the necessary hires and other labor-related adjustments for that quarter.
Furthermore, if the variables of production change for, let's say, the 10,000 muffins, the real-time data you have at hand can be readily manipulated so you can adapt to the new situation.
More automated processes

Through your ERP system's automation, you eliminate many of the repetitive or non-value-adding tasks that your team may carry out, such as duplicating data entry, coordinating with multiple departments to gather data for a report, keeping track of inventory manually, and so on.
For example, when your ERP system receives an order, your inventory updates automatically, shipping gets notified, and you invoice in a few seconds, with little human intervention and a much lower rate of error.
As a result, you reduce your need to hire low-skilled employees and free up your team for tasks that add greater value to your business, such as business development, sales support, and product development.
Reduced IT costs

With a cloud ERP system, you greatly minimize the disparate software you need to run your business. Furthermore, your software maintenance and upgrade costs are all taken care of by your vendor through your monthly fees.
Improved customer satisfaction

The reduction of manual labour and errors, the automation and streamlining of processes, and the greater visibility into your inventory and all operations mean your teams will have more time to support, and sell to, customers.
We've just described some of the business benefits commonly resulting from the adoption of an ERP system. In a 2018 study of 315 manufacturers and distributors and their ERP implementation, the researchers summarized some of these same benefits and others in the two graphs below.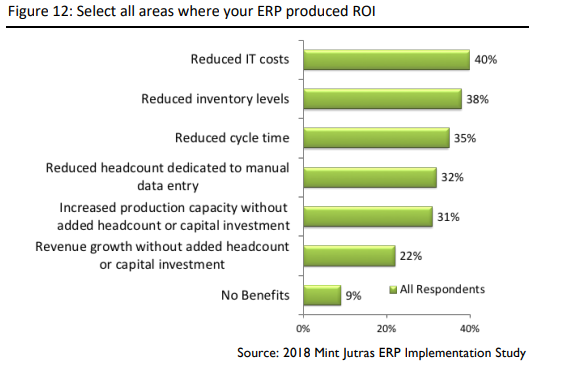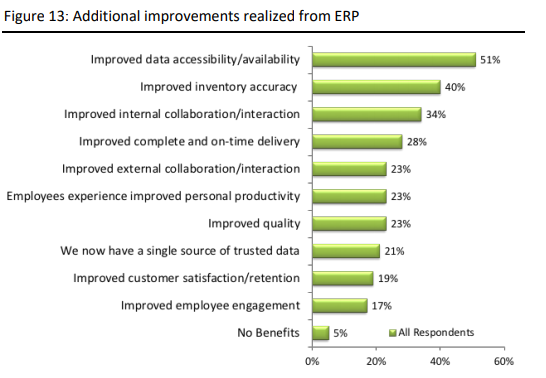 How to reap the benefits of an ERP system quickly

The evolution of cloud-based ERP solutions has been a great boon for small and medium-sized businesses. Residing totally on the Internet and maintained by their providers, the best cloud-based ERP software enables your SME to:
Leverage all the advantages of an ERP, with little upfront investment or IT infrastructure. Furthermore, you don't need any IT staff to look after maintenance, update management, security, and data back-up and recovery, which is taken care of by the provider.
Offer your team anytime-anywhere Internet access to your ERP system. As a result, your salespeople, technicians, and delivery staff on the road as well as your team working remotely enjoy flexible effortless access to your ERP system to support their productivity.

3. How much does a cloud ERP cost?

Figuring out the cost of a cloud ERP system may be a little tricky in some cases. One thing is sure: your monthly fee will cover three service components:
Hosting
Licensing
Service contract

Prices will vary depending on the number of users and the functions you need to access. For example, Fidelio has two principal licenses, with a fixed monthly, per-user fee.

So a distribution license would cost:
$119 per month per user, or $559 per month for 5 users.
That's about $20 per day.

A manufacturer's license would cost:
$169 per month per user, or $845 per month for 5 users.
Or about $30 per day.

How do these per-day costs compare to the daily costs of the inefficiencies you calculated at the beginning of this article?

Other ERP systems offer similar pricing structures, but beware of certain pitfalls:
Some ERP systems charge based on the volume of computing resources you use. Thus, the greater your volume, the greater your costs — unlike the cost-per-user model.
Beware of "add-ons." Some systems do not have all-in-one integration. Thus, other systems need to be tacked on, which slows down the overall "ERP" response.
Beware of customization requests, which can generate additional costs quite quickly. By choosing an ERP focused on your industry, you'll be able to take advantage of specific functionalities based on best practices, and thus minimize your need for customizations.
To learn more about the advantages of Fidelio's cloud ERP system, click on, "9 Reasons Why the Best Cloud ERP for Your SME is Fidelio"
Persuading your president that an ERP system is an investment and not a cost may be the single biggest contribution you can make to your company. If you need any help in building the business case, do reach out to us. We'll be happy to help!