Cloud ERP: What It Is, How It Works, and Why Businesses Choose It to Elevate Performance
---

The pandemic has made one lesson clear to your small business: you need to be more efficient and agile.
So why does a concept like "cloud ERP" keep coming up in your search for technological solutions?
Because you're looking in the right places. This discussion will help you get a clear view of the concept and benefits of cloud ERP software, and outline why businesses like yours choose cloud ERP systems to springboard their business's productivity.

What is an ERP system?
Think of your body's nervous system. It connects all of you, sending data to your brain so you can sort it, analyze it, manage it, and make decisions.
An Enterprise Resource Planning (ERP) system works in a similar fashion. ERP software connects every business function of your operation, from inventory to financial management, and from human resources to customer management.
Just like in your brain, all the data of your business is centralized and organized in the ERP system. Due to your rigorous business procedures, this data is reliable, and provides you in real-time with total visibility into your operations. This visibility enables you to make better, faster decisions so you can adapt to a quickly changing environment. Furthermore, the ERP system eliminates or automates many processes, thus saving you time and money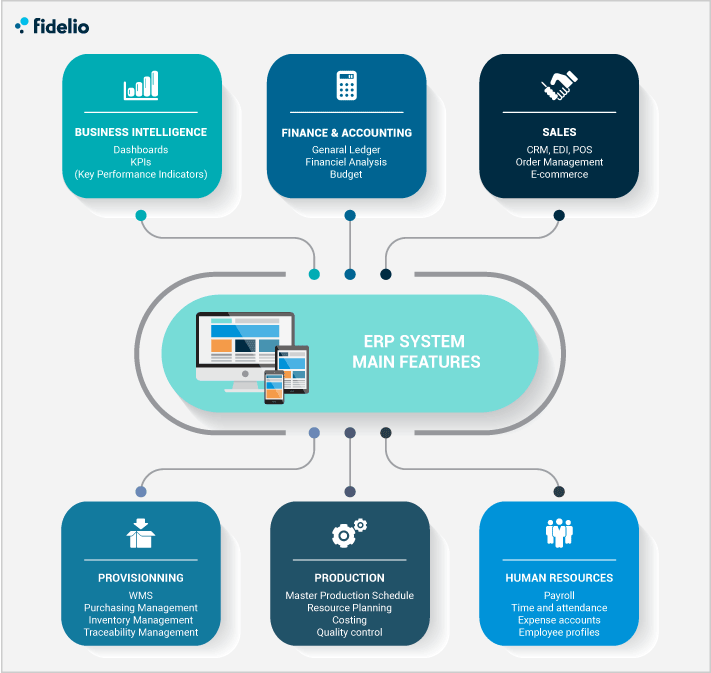 What is the cloud?
Remember that time-shared apartment you vacationed in? By paying the rental fee, you enjoyed all the amenities of the place without having to invest a dollar in ownership.
Similarly, you can think of cloud computing (i.e., "the cloud") as the time-sharing of a vendor's remote servers, computer processing, operating system, applications, and storage capacity. For a fixed monthly or annual fee, your business can access all these tools via an Internet browser.
Companies ranging from global brands to solopreneurs have taken advantage of the flexibility and efficiencies of cloud computing services. Among the most prominent cloud providers are Microsoft Azure and Amazon Web Services (AWS).
The Azure platform serves 95% of the Fortune 500 and AWS has millions of customers worldwide, including leading government agencies.

What is cloud ERP?
In a cloud-based ERP system (informally known as "cloud ERP"), the ERP software runs in the cloud. The regular fee you pay depends on the amount of cloud service your business requires. This business model is called Software-as-a-Service (SaaS).
A rapidly growing number of companies find cloud ERP systems for small business and medium-size companies have transformed the way they do business. But before we discuss the benefits of cloud of ERP software, we need to put them in context by first discussing the other major type of ERP system ?? the on-premise solution.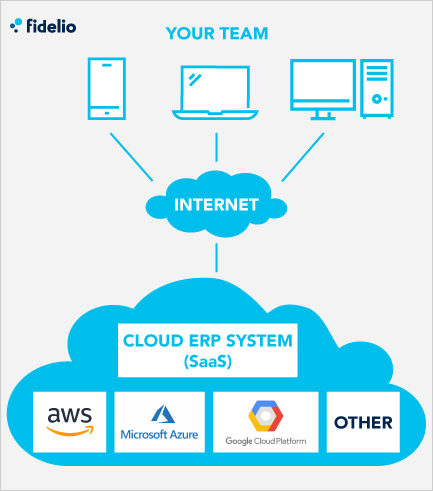 What is the difference between cloud ERP and on-premise ERP?
To continue our real estate analogy, think of an on-premise ERP as the opposite of a time-shared residence: you're buying an empty apartment all by yourself, furnishing it, and paying staff to maintain it.
In an on-premise ERP system, a company pays a licensing fee for the software, and gets it installed by its IT team or an outsourced partner. Typically, companies choose an on-premise solution for compliance or customization reasons. In the latter case, the companies foresee an ROI from customizing the programming of the ERP system to meet their special needs.
Generally, these are larger enterprises equipped with an IT staff that can maintain, troubleshoot, develop, upgrade, and secure the ERP software while also taking care of all the day-to-day IT priorities of the rest of the enterprise.
In contrast, in cloud ERP all of these activities are the responsibility of the vendor. As a result, your IT resources can dedicate themselves to projects that deliver higher value to your business.
To learn more about the fundamentals of ERP systems, click here.

How does cloud ERP work?
As we noted earlier, a cloud-based ERP enables any authorized person in your company to access the system through any computing device and an Internet connected browser. The cup of coffee is optional.
Due to the end-to-end integration of your business functions on the ERP system, all your data is real-time information, from inventory figures to completed sales.
So, for example, when Alice your salesperson enters her completed transaction into the ERP system, your inventory updates automatically, the warehouse shipping team gets notified, and you invoice in a few seconds. Because there's little human intervention, you have a much lower rate of error.

What are the benefits of cloud ERP software?




Faster implementation
Your cloud ERP system will be up and running and returning value to your business much more quickly than an on-premise ERP. That's because the on-premise ERP requires a business to select or lease the proper hardware and train or recruit IT staff. Cloud ERP has no such requirement.
Keep in mind, though, that any successful ERP implementation requires proper planning and meticulously prepared data migration, customization, and configuration as well as a well-thought-out change management process for your team.
Lower up-front costs
Your cloud ERP cost is like a phone or electricity bill. You pay it monthly (or annually), and that fee covers upgrades and maintenance. This fee could be a per-user cost or an amount charged to the business.
On the other hand, an on-premise ERP requires a significant upfront payment of a licensing fee as well as a recurring maintenance fee for upgrades. Additionally, the company needs to invest in hardware and IT staff time to accommodate the extra demands made on the enterprise's IT infrastructure.
Scalability
Growth is much simpler with a cloud-based ERP system. No matter how many people or locations you want to add, cloud ERP can accommodate you. If you need to expand your ERP's functionality, your vendor can also accommodate you. Furthermore, you can take on all this growth while still optimizing your costs.
Free maintenance
All software requires maintenance and upgrades to reflect changing business circumstances and technological innovation. This software development is undertaken by your vendor and covered by your monthly fee.
Anywhere, anytime access
In a world where work is increasingly done both onsite and remotely, cloud ERP offers your team convenience and flexibility.
What's more, the major cloud service providers locate their data centers in strategically diverse territories to ensure redundancy and support your peace of mind.
Better security
In the early days of cloud, some companies were hesitant about storing their business information outside their premises. But today's major cloud service providers offer an enterprise-grade level of security and compliance that is beyond what most small businesses could afford on their own.
For example, at Fidelio, we use the Azure cloud, which offers state-of-the-art security as well as backup and disaster recovery solutions, all supported by thousands of cybersecurity experts working together.

Why do small and medium-size businesses prefer cloud ERP to on-premise solutions?
Given the benefits of cloud ERP described above, any company of any size can dramatically improve their productivity and agility with the platform. Years ago, affordable, high-performing cloud ERP systems for small business did not exist. Today, they do. Because of their lower up-front costs, they greatly reduce the barriers to entry for small businesses.
In addition to lower up-front costs, the following factors also contribute to businesses like yours choosing cloud ERPs:
A reduced workload for your IT staff
Since the heavy lifting of software maintenance and development is done by your vendor, managing your ERP system is much simpler and less costly. As a result, your IT team can focus on higher-value projects that help build your business.
The usage and prevalence of mobile devices
As the number of cellphones and tablets increases, and sales of desktops decrease, mobile access to your ERP becomes essential for nimble, anytime-anywhere decision-making. Cloud ERP systems deliver that.
Tools for international competition
Is your small business taking on bigger companies in the international marketplace? If so, you can be almost sure they're using an ERP system. A cloud ERP empowers your company with the same tool they're using.

What will a cloud ERP system cost?



Figuring out the cost of a cloud ERP system may be a little tricky in some cases. One thing is sure: your monthly fee will cover three service components:
Hosting
Licensing
Service contract
Prices will vary depending on the number of users and the functions you need to access. For example, Fidelio has two principal licenses, with a fixed monthly, per-user fee: for distributors it's $119; for manufacturers, $169.

What about the ROI of cloud ERP?
As with all your investments, ROI is king. Following your cloud ERP implementation, you'll find your business rapidly transforming into a more productive and agile organization that:
Greatly reduces manual labour and errors
Automates and streamlines processes
Benefits from greater visibility into all operations.


As a result, your teams will have more time to:
Work with, and sell to, customers
Develop or finetune products and processes
Pursue new opportunities for growth
Make better decisions faster.
If you'd like to learn more about Fidelio's cloud-based ERP system, click here.