Make your Sales Representatives' Lives Easier on the Road
---
Automate your representatives' activities on the road. Track your sales objectives, prospects, appointments, orders and your inventories from anywhere at any time, using an integrated mobile solution.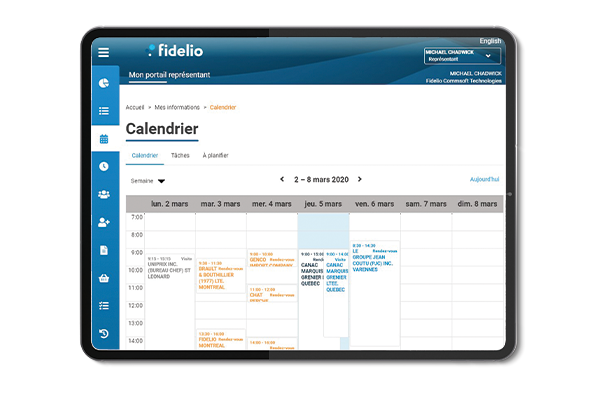 Real-Time Access for All Representatives
It's crucial to have an up-to-date inventory with many representatives on the road. Your information is automatically updated thanks to a fully integrated order taking tool.
Wow Factor
With a tablet or smartphone in hand, representatives meeting clients are able to access all your company's CRM and ERP information. They are able to offer a customized and complete service even when out of the office.
Sales Made Easy
Representatives can see the available and upcoming product quantities in your warehouse. They can also access customer order history and advise them on their order volume. Discounts or applicable promotions are instantly calculated. Representatives can even improve their sales by suggesting related products based on customer purchases.
This Module's Popular Features:
---
Potential customer follow-up
Order taking
Merchandising
Appointment taking
Inventory view
Price lists and discounts

"Thanks to my new Fidelio e-commerce, my sales increased by 25% without hiring a single employee. My clients can also access their invoices and account statements online."
Martine L., Distam
Explore all Fidelio ERP features
---
LEARN MORE ABOUT OUR PRODUCTS AND SERVICES
Schedule a demo with one of our experts and quickly identify your needs.