Simplify your Financial Management and Take Control
---
Fidelio manages, in real-time, every aspect of your financials: general ledger, budget, accounts receivables and payables, reporting and financial analysis.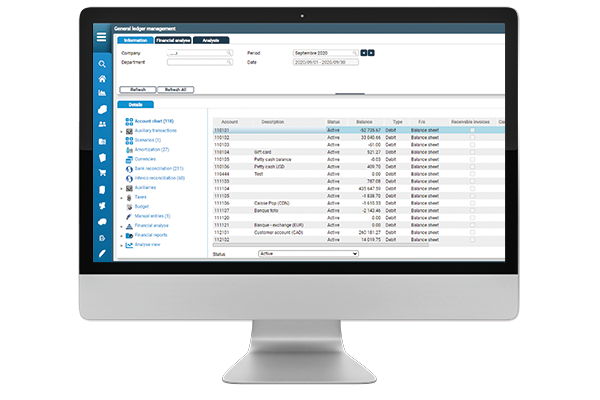 Simplify period closures and end of fiscal year closures
Close your accounting periods without disrupting your daily operations.
Inter-company management: automate transactions between your branches, divisions and subsidiaries
Automate sales, purchases, stock transactions and inter-company taxes. Accounting transactions are made easier, inventory control is precise and inventory transfer is seamless.
Reduce data entry errors, get better control of your credit and your receivables
All your information is centralized in a single database of the Fidelio ERP system. As a result, your information needs only to be entered once to be available to everyone.
This Module's Popular Features:
---
General Ledger
Accounts Payables
Reports and Financial Analysis
Capital Assets
Cash Flow Management
Accounts Receivables
Budget
Inter-company Budget
Cost and Expenses
Profit Center

"I've been using Fidelio since 2004 and my inventory management improved by leaps and bounds."
Pierre S., Groupe Hockey
Explore all Fidelio ERP features
---
LEARN MORE ABOUT OUR PRODUCTS AND SERVICES
Schedule a demo with one of our experts and quickly identify your needs.